Multinational companies with branches all around the world can communicate with their Company Executives and staffs via
web conferencing
these days in very simple methods. In a web conference, each participant sits at his or her own computer and is connected to other participants via the internet. This can be either a downloaded application on each of the attendees computers or a web-based application where the attendees will simply enter a URL (website address) to enter the conference.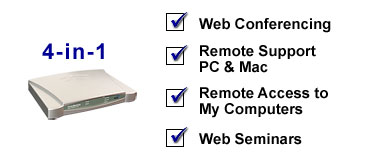 Nevertheless not all web conferencing appliances are the same. They may need you to subscibe to different functions separately such as
Web conferencing, Web seminar, Remote support and Remote access
but with the RHUB 4-in-1, you can assign any attendee in a meeting to
present his computer screen to all meeting participants. Best of all there is nothing to download. When you start a seminar, your attendees can join the meeting from any platforms with a full-fledged browser. There is total privacy and the meeting presenter can chose certain application to show attendees and hide everything else on his own computer. With the RHUB web conferencing application, you won't need separate remote support for connecting to other computers for control. You can access the home or office computer via your laptop while you are traveling through the remote access system as well.


RHUB-200 costs $995.00 when configured with 2 meeting rooms and 10 attendees. The next model up (RHUB 500) starts at $1,995 with 5 meeting rooms and 20 attendees and RHUB-1000 has 50 meeting rooms and 200 attendees. You can have any combination of rooms and attendees for the RHUB. For easy installation and application, try the RHUB web conferencing appliance.