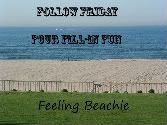 1. When I
read a good
I
be oblivious to my surroundings.
2. It is pretty funny that
I once wanted to be an architect but I do not like designing of anything. Not buildings, fashion, etc. I don't really have those creative bone in me.
3. It may be strange but
I don't own a Tv. I mean with the internet these days...
4. How
kids scream and yell
made me
go bonkers! (job related)
.